History

[

]
Westview CRC was organized as the second English-language Christian Reformed congregation in Grand Rapids in 1893. It was strategically located midway between the Alpine Avenue and Coldbrook churches on Broadway Avenue just south of West Leonard. Within a decade it outgrew its original wood frame building and built a new brick church building.
Waht would eventually become US-131 was built in the church's backyard starting in the mid-1940s, and with its upgrade to become part of the Interstate Highway System, the congregation decided to move from its original location (just a few blocks west of the Grand River and one block west of the highway) in 1962. The church moved three miles down Leonard and adopted the Westview name.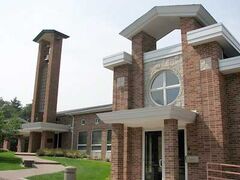 The original Broadway Avenue building remains in use to this day.
Historical Details
[
]
Names
[
]
Broadway Avenue, 1894-1962
Westview, 1962-present
Locations
[
]
Scribner Avenue Baptist Church, 1236 Scribner NW, Grand Rapids, MI 49504 (1893-94)
1142 Broadway Avenue NW, Grand Rapids, MI 49504 (1894-1962). Originally sat 350, and enlarged in 1904, 1914, and 1940.
2929 Leonard Street NW, Grand Rapids, MI 49504 (built 1962). A substantial addition was added in 1992.
Pastors

[

]
G. D. De Mott, 1895-99
M. J. Bosma, 1900-07
J. W. Brink, 1909-12
E. Tanis, 1912-19
Henry J. Kuiper, 1919-29
John De Haan Jr., 1929-45
T. Van Eerden, 1946-51
G. J. Rozenboom, 1953-62
P. L. Vermaire, 1963-73
W. F. Vander Hoven, 1974-82
Charles S. Steenstra, 1983-95
Roger B. Groenboom, 1994-present
Ronald G. Baker, 1997-present
Membership Overview
[
]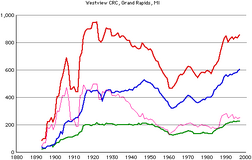 Membership Data
[
]
Green (lower) line shows membership in families; blue (middle), professing members; red (top), total members; and magenta (thin), non-professing members.

Youth Ratio
[
]
Red line shows nonprofessing members as a percentage of total membership.

Five Year Growth Rate
[
]
Red line shows five year growth rate. A five year growth rate between 10% and -10% is considered stable; greater than 10% indicates a growing congregation; one below -10% indicates a church in decline. This makes no allowance for daughter churches.
Data source: Yearbooks of the Christian Reformed Church. Dates are year prior to publication date since data is gathered at the end of one year and published in the next.