Servan'ts Community was organized in 1981.
History
[
]
Servant's Community Reformed Church began with 12 people gathering weekly for prayer, Bible study, and informal worship. The first meetings took place in homes. On January 20, 1980, the group began meeting in a vacant church building in the heart of the Grand Rapids west side.
On January 21, 1981 Servant's Community was officially organized by the North Grand Rapids Classis of the Reformed Church in America. Leaders were chosen. Assignments were accepted. 23 adults and 9 children stood on an exciting new frontier.
From those earliest days, Servant's has existed for the sake of our Westown neighborhood. We are a church of and for our community that longs to make the hope we have experienced a little more present in our city and our world.
There have been a lot of changes over these years, both for Servant's and Grand Rapid's Westside, but some things never change. One of those things for Servant's is the belief that Jesus' call to love our neighbors starts in the neighborhoods we find ourselves in. First and foremost we long to see reconciliation, justice and peace in our own lives and in our community.
Visit the Servant's Community website.
Historical Details
[
]
Location
[
]
57 Deloney Ave. SW, built as Ninth Reformed, 1892
Pastors
[
]
Richard J. Ter Maat, 1981-86 (pastor of Ninth, 1964-73)
Henry M. Kroondyk, 1987-91
Steven Van Bronkhorst, 1990-

Michael Mulder, 1998-
Membership Overview
[
]
Membership Data
[
]
Heavy lines: green (lower) shows membership in families; blue (middle), professing members; red (top), total members. Thin lines: magenta (middle), non-professing members; orange (lower), inactive members; black (top), average worship attendance.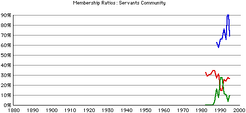 Membership Ratios
[
]
Red line (middle) shows nonprofessing members as a percentage of total membership (inactive members exluded); green (lower), inactive members as percentage of total membership; and blue (higher) average worship attendance of total membership.

Five Year Growth Rate
[
]
Red line shows five year growth rate. A five year growth rate between 10% and -10% is considered stable; greater than 10% indicates a growing congregation; one below -10% indicates a church in decline. This makes no allowance for daughter churches.
Data source: Acts of Synod of the Reformed Church in America. Dates are year prior to publication date since data is gathered at the end of one year and published in the next.