Oakdale Park Reformed was organized as Sixth Reformed in 1889, a daughter church of Third Reformed.
During 1888, a number of Dutch families settled in Oakdale Park, then a suburb of Grand Rapids. On February 1, 1889, Dr. M. Veenboer gave three 45' x 125' lots to Rev. A. Kriekard, pastor of Third Reformed, in trust for the founding of a church in this neighborhood. On February 14, Mrs. A. C. Brown of New York City, deeply interested in home missionary work, contributed $200 toward building the chapel, which was begun in April and dedicated on July 2. Rev. Kriekard, whose suburban parishioners were interested in this movement, enlisted the services of other Reformed pastors as supplies, and lay reading were also used. By authority of the Classis of Grand River, the mission was organized as a church on August 9, 1889 with 28 members.
In October 1889, a belfry containing a bell was added to the church building. In February 1890, Oakdale Park extended a call to J. M. Lumke to become their first pastor, which he accepted, assuming the charge in May.
Oakdale Park merged with Everglade Reformed to form New Life Reformed in 1974.
Historical Details
Edit
Holland Reformed, 1889-95
Sixth Reformed, 1895-1924
Oakdale Park, 1924-1974
1024 Adams Street SE (near Kalamazoo Ave.), 1889-1974
John M. Lumkes, 1890-93
William Pool, 1893-97
Peter De Pree, 1896-1903
John De Haan, 1904-10
Harm Dykhuizen, 1910-11
William J. Duiker, 1912-17
Klaas J. Dykema, 1917-20
Gerrit De Motts, 1921-23
Harri Zegerius, 1943-50
Lawrence J. borst, 1951-66
Henry J. Boekhoven, 1968-76
Daughter Churches
Edit
Membership Overview
Edit
Membership peaked in the late 1940s, and total membership remained stable until the early 1960s, when it began a precipitous drop due to the changing ethnic profile of the neighborhood. Realizing the end was near, Oakdale Park elected to merge with Everglade Reformed rather than hobble along for another decade or more of declining membership.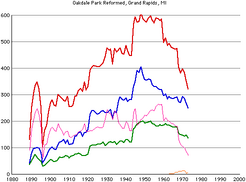 Membership Data
Edit
Heavy lines: green (lower) shows membership in families; blue (middle), professing members; red (top), total members. Thin lines: magenta (middle), non-professing members; orange (lower), inactive members.
Membership Ratios
Edit
Red line (upper) shows nonprofessing members as a percentage of total membership (inactive members exluded), and green (lower), inactive members as percentage of total membership.

Five Year Growth Rate
Edit
Red line shows five year growth rate. A five year growth rate between 10% and -10% is considered stable; greater than 10% indicates a growing congregation; one below -10% indicates a church in decline. This makes no allowance for daughter churches.
Data source: Acts of Synod of the Reformed Church in America. Dates are year prior to publication date since data is gathered at the end of one year and published in the next.