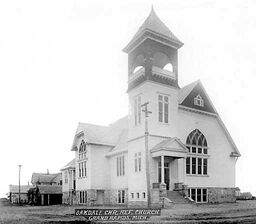 History
[
]
Oakdale Park CRC, was organized on the south edge of Grand Rapids in 1890 under the sponsorship of Eastern Ave. CRC. Oakdale was the eighth Christian Reformed congregation in the city.
The 1890 U.S. Census found just over 60,000 city residents, nearly twice as many as a decade earlier. The Dutch-born population had also increased, but for the first time at a rate well below that of the city. Now there were 8,275 Dutch-born in Grand Rapids, just 14% of the urban population. Although this was the end of a great decade for Dutch immigration, the key factor for the Dutch Reformed is that they had become primarily American-born by 1890.
Oakdale Park was annexed to the City of Grand Rapids in 1891.
In the 1960s, Oakdale Park experienced significant membership loss through "white flight" to the suburbs, but like many congregations, it decided to remain where it was and minister to its new neighbors.
Oakdale Park's aging sanctuary was condemned in late 1999 after extensive wind and snow damage. The current sanctuary was completed in the fall of 2002.
Historical Data
[
]
Locations
[
]
961 Hancock Street SE, Grand Rapids, MI (1891-1963, new building 1905)
1313 East Butler Avenue SE, Grand Rapids, MI 49507 (built 1963)
Pastors

[

]
G. A. De Haan, 1892-95
Foppe M. Ten Hoor, 1896-1900
H. M Vander Ploeg, 1901-03
L. Berkhof, 1904-06
Y. P. De Jong, 1907-11
William P. Van Wyk, 1911-22
H. Kuiper, 1923-25
J. M. Vande Kieft, 1925-32
J. Zeeuw, 1932-35
W. Hendricksen, 1935-42
J. Griffioen, 1943-48
P. Y. De Jong, 1948-52
J. H. Piersma, 1953-56
J. Guichelaar, 1956-64
C. Bolt, 1966-71
W. Heynen, 1971-73
H. G. Vanden Einde, 1974-79
William Vanden Bosch, 1979-2010
Dean Deppe, 1984-85
Rayfield Benton Jr., 1995
James Jones, 1999-present
George Davis, 2004-2007
Emmett Harrison, 2012-present
Daughter Churches
[
]
Neland Avenue, 1915, cosponsored with Sherman Street
Madison Square, 1970, cosponsored with Fuller Ave.
Oakdale Neighbors, 1996
Membership Overview
[
]
Membership Data
[
]
Green (lower) line shows membership in families; blue (middle), professing members; red (top), total members; and magenta (thin), non-professing members. Note effect of launching neighboring Boston Square CRC in 1942.

Youth Ratio
[
]
Red line shows nonprofessing members as a percentage of total membership.

Five Year Growth Rate
[
]
Red line shows five year growth rate. A five year growth rate between 10% and -10% is considered stable; greater than 10% indicates a growing congregation; one below -10% indicates a church in decline. This makes no allowance for daughter churches.
Data source: Yearbooks of the Christian Reformed Church. Dates are year prior to publication date since data is gathered at the end of one year and published in the next.