History

[

]
LaGrave Avenue Christian Reformed Church was organized with 36 charter members on February 24, 1887 under the sponsorship of First CRC as the first English-speaking Christian Reformed congregation. This was because a new generation was growing up that spoke English and didn't benefit from Dutch church services.
LaGrave was the fifth Christian Reformed congregation in Grand Rapids. The first sanctuary was built in 1888. It was replaced by a new building in 1960, with a major addition completed in 1996.
Historical Details

[

]
Names
[
]
Fourth
LaGrave Avenue
Location
[
]
107 LaGrave Ave. SE, Grand Rapids, MI 49503 (built 1888, new building 1960, addition 1996)
Pastors
[
]
Daughter Churches
[
]
Burton Heights, 1905
LaGrave Neighborhood, 1948-53
Wayland, 1957
Membership Overview
[
]
The drop in membership in the mid-1890s is likely due to the formation of Broadway CRC, the second English-language CRC congregation in Grand Rapids, in 1893. The smaller drop around 1905 corresponds to the organization of Burton Heights CRC, the third English-language CRC in Grand Rapids.
Membership Data
[
]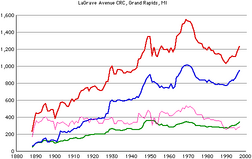 Green (lower) line shows membership in families; blue (middle), professing members; red (top), total members; and magenta (thin), non-professing members.

Youth Ratio
[
]
Red line shows nonprofessing members as a percentage of total membership.

Five Year Growth Rate
[
]
Red line shows five year growth rate. A five year growth rate between 10% and -10% is considered stable; greater than 10% indicates a growing congregation; one below -10% indicates a church in decline. This makes no allowance for daughter churches.
Data source: Yearbooks of the Christian Reformed Church. Dates are year prior to publication date since data is gathered at the end of one year and published in the next.