History
Hope PRC was began in 1915 as Hope Christian Reformed Church and organized in 1925 as a Protestant Reformed congregation.
Historical Details
Locations
Blair School, 4790 Riverbend Drive SW, Walker, 1917-30
1545 Wilson Avenue SW, Walker, 1930-65
1580 Ferndale Avenue SW, Walker, built 1965
Pastors
George M. Ophoff, 1924-29
John A. Heys, 1941-54
Herman C. Hanko, 1956-62
Herman Veldman, 1964-66
Jason L. Kortering, 1967-69
Ronald J. Van Overloop, 1973-78
Richard A. Flikkema, 1981-86
James D. Slopsema, 1986-95
Russell J. Dykstra, 1995-96
James Lanning
David Overway 
Membership Overview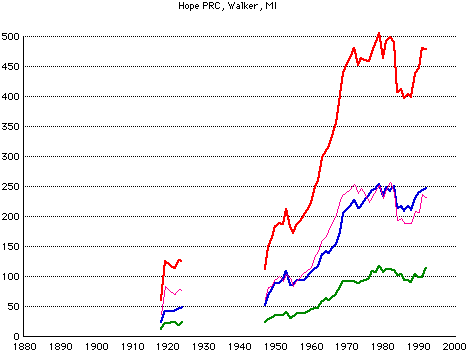 Membership Data
Green (lower) line shows membership in families; blue (middle), professing members; red (top), total members; and magenta (thin), non-professing members.
Data source: Yearbooks of the Christian Reformed Church and Protestant Reformed Churches. Dates are year prior to publication date since data is gathered at the end of one year and published in the next. At this point, I have no data between 1924 and 1947.