History

[

]
Highland Hills Christian Reformed Church was organized in 1950. It merged with Alpine Avenue CRC to form Westend CRC in 1992.
Historical Details
[
]
Location
[
]
1015 Westend Avenue NW], Grand Rapids, MI 49504 (built 1950, now Westend CRC)
Pastors
[
]
Jacob D. Eppinga, 1951-54
A. C. De Jong, 1954-60
N. L. Veltman, 1962-67
M. R. Doornobos, 1968-77
J. F. De Vries, 1977-83
K. J. Nydam, 1981-84
John Hofman Jr., 1984-90
Membership Overview
[
]
Highland Hills CRC got off to a fast start, growing from 50 families to 150 over about a dozen years - and thanks to the Baby Boom, the number of baptized, non-professing members brought total membership past the 700 mark before 1960. There was a rapid decline in non-professing members starting in the late 1960s as these children made profession of faith and went off to college and jobs, often taking them away from Highland Hills.
There was a second membership spike around 1980, followed by a period of steady decline. My best guess is that this was due to the a second generation of home owners with children moving into the neighborhood, displacing first generation empty nesters, and then seeing their own children grow and leave the nest.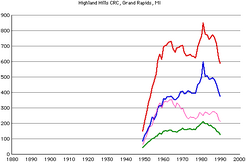 Membership Data
[
]
Green (lower) line shows membership in families; blue (middle), professing members; red (top), total members; and magenta (thin), non-professing members.

Youth Ratio
[
]
Red line shows nonprofessing members as a percentage of total membership.

Five Year Growth Rate
[
]
Red line shows five year growth rate. A five year growth rate between 10% and -10% is considered stable; greater than 10% indicates a growing congregation; one below -10% indicates a church in decline. This makes no allowance for daughter churches.
Data source: Yearbooks of the Christian Reformed Church. Dates are year prior to publication date since data is gathered at the end of one year and published in the next.