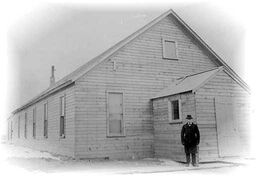 Grace Reformed was organized in 1897 as an English-language daughter of Fifth Reformed. It was the third English-language RCA congregation in Grand Rapids. With the construction of US-131 just two blocks away, the congregation relocated to Wyoming, Michigan, in 1964.
Historical Details
Edit
Locations
Edit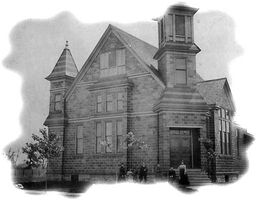 Reelman's Hall, 710 Grandville Ave. SW, 1897-98
Klondyke Church, 1898-99
892 Caulfield SW at B Street, two blocks east of Grandville Ave. and two blocks south of Franklin Street, 1899-1963
3330 Burlingame SW, 1964-present
John Van de Erve, 1897-1901
Rense H. Joldersma, 1901-02
Peter P. Cheff, 1902-05
Peter Braak, 1905-08
Lawrence Dykstra, 1909-12
Cornelius H. Spaan, 1912-38
Theodore Schaap, 1938-45
Henry C. Van Deelen, 1946-48
James W. Schut, 1954-59
Rodger H. Dalman, 1959-65
Harry L. Brower, 1966-72
Mark D. De Witt, 1973-85
Louis H. Bennes III, 1986-96
Brian K. Taylor, associate, 1988-96
Rick Veenstra, interim, 1996-97
Rick Oppenhuizen, 1998-present
Membership Overview
Edit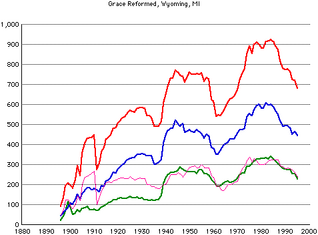 Membership Data
Edit
Green (lower) line shows membership in families; blue (middle), professing members; red (top), total members; and magenta (thin), non-professing members.
Data source: Acts of Synod of the Reformed Church in America. Dates are year prior to publication date since data is gathered at the end of one year and published in the next.
Community content is available under
CC-BY-SA
unless otherwise noted.