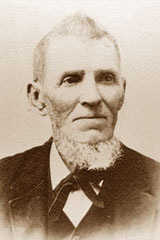 Gijsbert (sometimes spelled Gysbert) Haan was born on January 3, 1801 in in Hilversum, North Holland, the Netherlands. He grew up Reformed and sided with the Seceders in the Afscheiding.
Because of religious oppression and a famine in the Netherlands, Haan and his family (10 of 13 children lived to adulthood) followed Albertus van Raalte to the United States. They left the Netherlands on July 26, 1847 (about a year after van Raalte's group) on the passenger ship Centurion.
Haan remained in New York while van Raalte led the colonists to Michigan, where they carved out their own lakefront town in the wilderness, Holland. The colony grew, formed several congregations, created Classis Holland, and joined the Dutch Reformed Church (now Reformed Church in America, RCA) in 1850.
Secession
Edit
Haan had lived near Albany, New York, before moving to Michigan, and there he was influenced by members of the True Dutch Reformed Church, a group that broke away from the RCA in 1822. Haan agitated classis for separation from the "unsound" practices of the Reformed Church, such as open communion, singing hymns, not preaching the Heidelberg Catechism, and failing to support the Afscheiding in the Netherlands two decades earlier.
Classis Holland elected to remain part of the RCA, but Haan managed to convince a good portion of Second Reformed Church of Grand Rapids - including its pastor, H. G. Klyn - to secede. On March 19, 1857, they formed First Christian Reformed Church of Grand Rapids.
They were soon joined by congregations in Graafschap, Polkton (now Coopersville), Vriesland, and Noordeloos to form the Classis of Michigan on April 29, 1857. This is the birth date of the Christian Reformed denomination.
Haan preached in the Christian Reformed Church until his death on July 27, 1874.
Community content is available under
CC-BY-SA
unless otherwise noted.