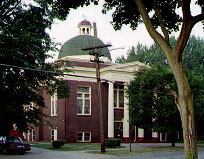 Franklin Street CRC was organized in 1887 by members of First CRC. Franklin Street was the sixth Christian Reformed congregation in Grand Rapids.
When the US-131 expressway was built in the early 1960s, much of Franklin Street's neighborhood was removed. The congregation chose to merge with Rogers Heights in 1966.
Historical Details
Edit
Holland Christian Reformed, 1887-1910
Fifth Avenue, 1910-12
Franklin Street, 1912-66
460 Franklin St. SW, Grand Rapids, MI 49509 (built 1886?, addition 1889, new building 1921)
W. R. Smidt, 1888-1902
W. D. Vander Werp, 1903-06
Lambertus Veltkamp, 1906-18
A. W. De Jonge, 1918-21
B. Essenburg, 1921-25
Henry Baker, 1926-37
J. Gritter, 1938-48
J. H. Piersma, 1949-53
R. H. Haan, 1953-59
H. Sonnema, 1959-63
Jerome M. Julien, 1963-66, pastor of Rogers Heights after merger
Daughter Churches
Edit
Grant Street Mission, 1909
Bethel , 1912-1994, cosponsored with Grandville Ave.
Hillcrest Chapel, 1947-92, later sponsored by Kelloggsville and First Hudsonville
Membership Overview
Edit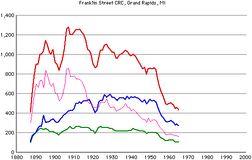 Membership Data
Edit
Green (lower) line shows membership in families; blue (middle), professing members; red (top), total members; and magenta (thin), non-professing members. Note effect of constructing the US-131 expressway just blocks away in late 1950s.

Youth Ratio
Edit
Red line shows nonprofessing members as a percentage of total membership.

Five Year Growth Rate
Edit
Red line shows five year growth rate. A five year growth rate between 10% and -10% is considered stable; greater than 10% indicates a growing congregation; one below -10% indicates a church in decline. This makes no allowance for daughter churches.
Data source: Yearbooks of the Christian Reformed Church. Dates are year prior to publication date since data is gathered at the end of one year and published in the next.
Community content is available under
CC-BY-SA
unless otherwise noted.