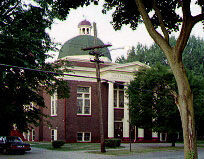 History
[
]
Franklin Street CRC was organized in 1887 by members of First CRC. Franklin Street was the sixth Christian Reformed congregation in Grand Rapids.
When the US-131 expressway was built in the early 1960s, much of Franklin Street's neighborhood was removed. The congregation chose to merge with Rogers Heights in 1966.
Historical Details
[
]
Names
[
]
Holland Christian Reformed, 1887-1910
Fifth Avenue, 1910-12
Franklin Street, 1912-66
Location
[
]
460 Franklin St. SW, Grand Rapids, MI 49509 (built 1886?, addition 1889, new building 1921)
Pastors
[
]
W. R. Smidt, 1888-1902
W. D. Vander Werp, 1903-06
Lambertus Veltkamp, 1906-18
A. W. De Jonge, 1918-21
B. Essenburg, 1921-25
Henry Baker, 1926-37
J. Gritter, 1938-48
J. H. Piersma, 1949-53
R. H. Haan, 1953-59
H. Sonnema, 1959-63
Jerome M. Julien, 1963-66, pastor of Rogers Heights after merger
Daughter Churches
[
]
Grant Street Mission, 1909
Bethel , 1912-1994, cosponsored with Grandville Ave.
Hillcrest Chapel, 1947-92, later sponsored by Kelloggsville and First Hudsonville
Merger
[
]
Membership Overview
[
]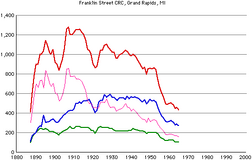 Membership Data
[
]
Green (lower) line shows membership in families; blue (middle), professing members; red (top), total members; and magenta (thin), non-professing members. Note effect of constructing the US-131 expressway just blocks away in late 1950s.
Youth Ratio
[
]
Red line shows nonprofessing members as a percentage of total membership.

Five Year Growth Rate
[
]
Red line shows five year growth rate. A five year growth rate between 10% and -10% is considered stable; greater than 10% indicates a growing congregation; one below -10% indicates a church in decline. This makes no allowance for daughter churches.
Data source: Yearbooks of the Christian Reformed Church. Dates are year prior to publication date since data is gathered at the end of one year and published in the next.