Fairlawn Christian Reformed Church was organized in 1958 as a daughter of Pleasant Street CRC.
Historical Details
Edit
305 Goldthwaite Rd., Whitinsville, MA
Daughter Churches
Edit
South Windsor, CT, 1966 (membership held by Fairlawn until organization)
Membership Overview
Edit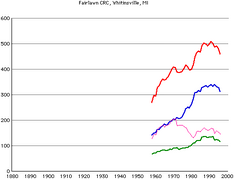 Membership Data
Edit
Green (lower) line shows membership in families; blue (middle), professing members; red (top), total members; and magenta (thin), non-professing members.
Source: Yearbooks of the Christian Reformed Church. Dates are year prior to publication date since data is gathered at the end of one year and published in the next.
Community content is available under
CC-BY-SA
unless otherwise noted.