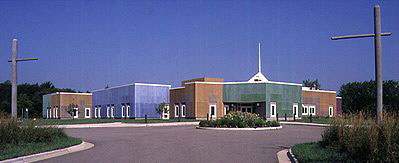 Church of the Servant (CoS) began an an alternative or experimental church in the late 1960s. The Fellowship of the Acts was not officially tied to any church or denomination, although a good portion of its members were Christian Reformed. At one time they met in the Baxter Christian School gym.
This may have been the first "concept church" in the Christian Reformed denomination; heretofore most churches had been geographically based. Core concepts from the church's beginnings included not expending great resources on a building (it was 20 years after organization that CoS moved into its own facilities), social justice, celebrative worship, weekly communion, and an equal role for women in the ministry of the church.
Church of the Servant was organized as a Christian Reformed congregation in 1973. Using rented space, relocating as necessary, and adding a second morning worship service when attendance overflowed its rented space allowed consistent growth through 1990 at minimal expense.
Visit the Church of the Servant website.
Historical Details
Edit
Fellowship of the Acts (before organization)
Church of the Servant
Locations
Edit
Oakhill Presbyterian Church, 1930 Leonard Street NE, Grand Rapids, MI 49505
Creston Christian School, 1031 Page Street NE, Grand Rapids, MI, 49505
Mulick Park School, 1761 Rosewood Avenue SE, Grand Rapids, MI 49506
Seymour Christian School, 2550 Eastern Avenue SE, Grand Rapids, MI 49507, 1980-93
3835 Burton Street SE, Grand Rapids, MI 49546, built 1993)
John Vriend, 1974-82
Jack Roeda, 1983-
Membership Overview
Edit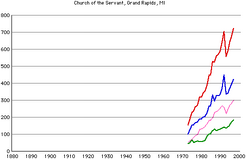 Membership Data
Edit
Green (lower) line shows membership in families; blue (middle), professing members; red (top), total members; and magenta (thin), non-professing members.

Youth Ratio
Edit
Red line shows nonprofessing members as a percentage of total membership.

Five Year Growth Rate
Edit
Red line shows five year growth rate. A five year growth rate between 10% and -10% is considered stable; greater than 10% indicates a growing congregation; one below -10% indicates a church in decline. This makes no allowance for daughter churches.
Data source: Yearbooks of the Christian Reformed Church. Dates are year prior to publication date since data is gathered at the end of one year and published in the next.
Community content is available under
CC-BY-SA
unless otherwise noted.