Baxter Christian School, located at 935 Baxter Street SE in Grand Rapids, Michigan (bounded by Baxter on the south, Bemis on the north, and Diamond on the east), was an early independent Christian school created to meet the needs of its community. It merged with Oakdale Christian School in 1963 and closed its doors in 1969.
Section heading[]
Begun by Eastern Avenue Christian Reformed Church in 1881 as a parochial school to meet the needs of its own children, Baxter Christian School became an independent school with its own board in 1898. This allowed it to draw from a wider base, and after Eastern Ave. CRC was divided by the common grace controversy, Protestant Reformed children attended as well.
The school taught exclusively in Dutch until 1892, when it began to teach children "at least 9 years of age" in English. Dutch instruction was discontinued in 1917, possibly due to World War I and confusion of Dutch vs. Deutch. (Some churches that still had Dutch worship services were burned during this era.)
In 1913, a $15,000 addition was made to the school building.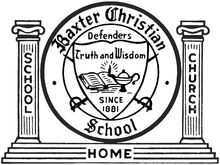 Baxter originally served as an elementary school and junior high school covering grades 1 through 8, but by the mid-1960s it was forced to close off the top story of the building due to fire code, eliminating the junior high component.
A one-story wing was added on the west side of the building in 1951 with rooms for grades K-2, the school office, and a small nurse's office, and by the late 1960s it covered only grades K-5.
Baxter Christian joined with Oakdale Christian School to form United Christian Schools in 1963 and closed its doors at the end of the 1968/69 school year. It has since been the home of Baxter Community Center.
Sources[]
Eastern Avenue and Baxter, 1920-1950, Origins, Fall 1996, Heritage Hall, Calvin College