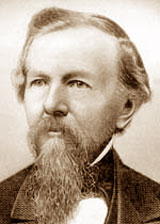 Albertus van Raalte
Edit
1811-1876
Edit
Albertus Christiaan van Raalte was born in Wanneperveen, Overijsel, the Netherlands on October 17, 1811. He studied theology in Leyden and joined the Seceders during the Afscheiding. He was ordained in the seceded church in 1836.
Choosing America
Edit
Because of severe religious oppression of the Seceders, Albertus van Raalte helped form a society to help his congregation emigrate to the United States. van Raalte and 53 members of his congregation left the Netherlands on Sept. 24, 1846 on the passenger ship Southerner bound for New York City.
The immigrants passed through Albany and Rochester, New York, on their way to Michigan, where they wintered in Detroit. Although van Raalte had planned to establish a colony in Wisconsin, the group chose to settle on Black Lake (now Lake Macatawa) near Lake Michigan.
The immigrants began settling their new home on February 9, 1847, the birth date of Holland, Michigan. Within a year the community had grown to nearly 4,000.
Having left the Netherlands because of religious oppression, the colonists quickly created new congregations, formed a classis, and joined the Dutch Reformed Church (now Reformed Church in America) in 1850.
An End to Harmony
Edit
van Raalte had envisioned a harmonious Christian community dominated by the church, but it was not to be. First, Holland Township was incorporated as the colony's government, and the religious unity of the Dutch settlers was shattered in 1857 when Gijsbert Haan led an exodus from the "lax" practices of the DRC. Four congregations seceded from the Reformed Church and united to create the Christian Reformed denomination in 1857.
Due to poor health, van Raalte retired from the pastorate in 1867. His wife died in 1871, the same year much of Holland was destroyed by fire. van Raalte died on July 27, 1876.
Community content is available under
CC-BY-SA
unless otherwise noted.